Notice: Our music stream will be offline untill further notice. We will continue to stream available HISD sporting and student events. You can still catch our regular programming at 104.9 FM =)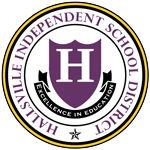 Bobcat Radio 104.9 KQAT is an entertainment and information source for Western Harrison County, Texas, owned by Hallsville Independent School District and managed by the Hallsville ISD Technology Department.
The low power FM (LPFM) station serves the city of Hallsville and the surrounding community for a 10 mile radius. The transmitter for Bobcat Radio is located at 1 Bobcat Lane in Hallsville, Texas 75650 (32.487340, -94.571691).
As required by the Federal Communications Commission, Bobcat Radio puts on display all public comments, suggestions, and complaints. Anyone may enter information about community interests in the public file by contacting us via email at bobcatradio@hisd.com
---
Playing Now